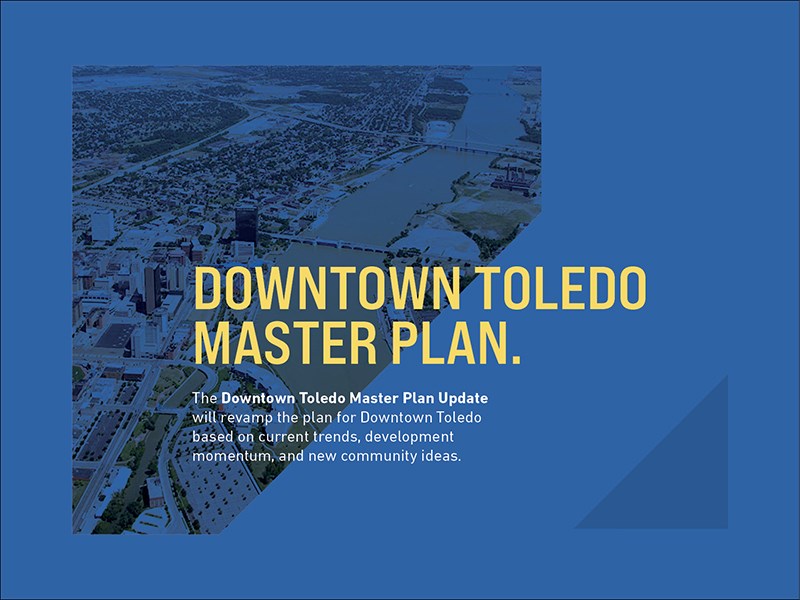 Downtown Toledo Master Plan Refresh
About this Plan
Given the changing nature of Downtown, new developments, new initiatives and plans, and ever-evolving market conditions, now is the time to think about the next stage of planning for Downtown Toledo. This Master Plan update kicked off in winter 2022 and is expected to be completed in 2023.
Click here to read the 2017 Downtown Toledo Master Plan.
Get Involved
Your voice is important for this plan update to be successful. Visit the links below to share your thoughts and ideas about Downtown Toledo through our online survey, interactive map, and ideas wall.
Online Survey
We want to hear from you! Take a brief survey to tell us about your Downtown Toledo experience and your thoughts about downtown's future.
Interactive Map
Drop a pin on our interactive map of Downtown Toledo. Share your thoughts about places you enjoy, places that need improvement, and other ideas or suggestions.
Ideas Wall
Post an idea or comment on our ideas wall to tell us about Downtown Toledo's strengths, challenges, and your vision for the future.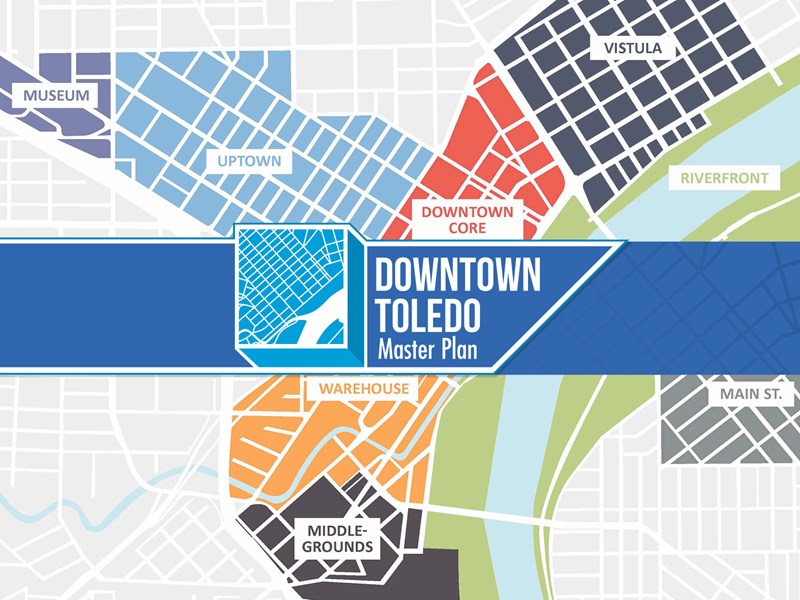 Downtown Toledo Master Plan 2017
ConnecToledo is an organization of action. Guiding our investments, activities and planning efforts is the Downtown Toledo Master Plan. Approved by Toledo City Council in February 2017, the Master Plan outlines 12 Priority Action Items. It catalogs existing physical conditions, demonstrates the economic rationale for investments and recommends implementation steps. These are the essential elements in creating an active, livable and attractive downtown.
The public was invited to participate in the creation of the Master Plan. Over a series of three public meetings, more than 1,000 people attended to give their ideas and thoughts on the future of downtown Toledo. ConnecToledo, and our partners, value public input via the Master Plan or other community plans as a method of gaining best practices and garnering ideas.
As progress is made, ConnecToledo treats the Master Plan as a living document.  As Downtown Toledo evolves, the plan should evolve along with it. With this new culture of planning, participation and implementation infused into the community, there is no doubt that Toledo's greatest days are ahead.

Comprehensive Parking Study
ConnecToledo, Downtown Development Corporation, partnered with the City of Toledo, Lucas County, Toledo-Lucas County Port Authority and the Downtown Toledo Improvement District to conduct a comprehensive parking study. The purpose of the study was to forecast future parking demand, and create strategies that demand while balancing, and in some instances, encouraging alternative transportation modes. Alternative transportation includes transit bicycling and walking as well as technology such as autonomous vehicles and apps to locate parking. The study reviewed the current use of parking lots, garages and meters, and usage over the next 5 to 10-year period.
By considering both on-street and off-street parking together as a system, we are managing parking so that it meets the needs of all visitors, while ensuring sustainable practices and financial responsibility.
Download the July 2017 On-Street Parking Survey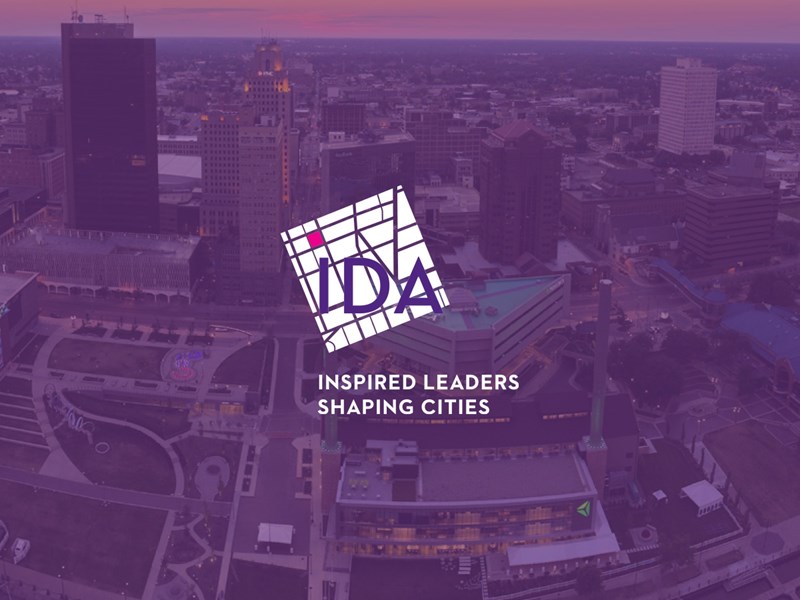 International Downtown Association Study
ConnecToledo participated in the third edition of The Value of U.S. Downtowns and Center Cities report released by the International Downtown Association in February 2020. The study has data and analysis that encompasses a total of 33 downtowns and grouped them into one of the three tiers: Emerging, Growing or Established. Downtown Toledo was recognized as Established based on employment and residential density, assessed value per square mile, and population/employment growth over the last two decades. Learn more about our downtown and other peer cities through the five principles of economy, inclusion, vibrancy, identity and resilience.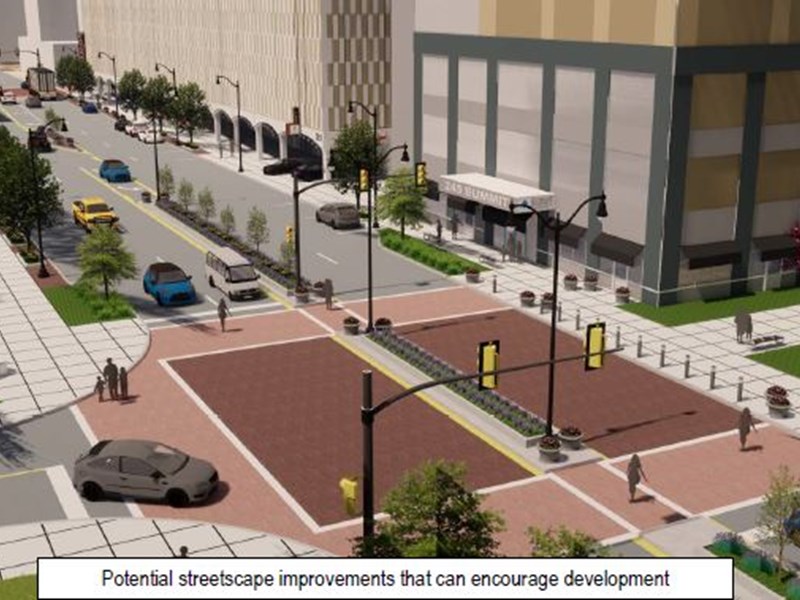 Downtown Transportation Plan
ConnecToledo, working in conjunction with Mannik Smith Group, MKSK, DGL Consulting Engineers, Burton Planning Services and the City of Toledo, conducted a comprehensive study of the downtown transportation and multi-transit options. The purpose of the study was to gain a better understanding of the opportunities and challenges of downtown Toledo's transportation network, project the future needs and quantity of transit users and develop a plan with recommendations to ensure downtown Toledo implements a safe, efficient, and equitable transportation network.
The study, approved by Toledo City Council on 7/14/2020, consists of the findings from three public meetings, data collection and review, an assessment of current conditions and a forecast for future conditions, as well as identification of key projects and alternatives for downtown's transportation network. The recommendations from the study should help advance the vision of the Downtown Toledo Master Plan by making downtown Toledo more accessible for alternative modes of transportation, while improving our urban design and visual aesthetic.
Highlights of the study's recommendations are:
Reduce lanes of travel and add streetscaping along Summit Street (expected completion Summer 2021)
Adding protected cycle track on Jefferson Street (expected completion 2021)
Add buffered cycle track to MLK Bridge (TMACOG funded project)
Converting parts of Adams and St. Clair Street to festival streets (narrow roadways with distinctive elements such as distinct paving materials, street art, vegetation etc.)
Removal of Washington Street from the National Truck Network
Updating crosswalks to downtown standard (inlaid brick at signalized intersections)
Conversion of all but two streets into two way
General lane width reduction, adding on street parking wherever possible, adding streetscape improvements, adding more cycling infrastructure